Regular price
Rs. 1,499.00
Sale price
Rs. 949.00
Unit price
per
Sale
Sold out
India's First Family Auction Game : 'MAD- Mad Auction Deal'
 Welcome to the world of AUCTION. 
Here every BID can make a MAD difference. Experience the madness by bidding on the most silly and crazy tasks/questions. 
Players: MAD can be played with a maximum of 5 Teams. (Ps: More the team members, more the fun!) 
Age :13+ 
What's inside the Box?
-DARE x 70 
-QUESTION x 70 
-ACTION CARDS x 10 
-BIDDING COUPONS x 200 
-BIDDING POPPERS x 5 
-GAVEL x 1
Where can you play this? : 
-Parties 
-Game Nights 
-Family Gatherings 
-Birthday Parties 
-Trips and Vacations 
Other product details:
-Size of the cards: 2.5*1.5 inches 
-Material of the cards: Paper 
-Material of the hammer: Wood 
-Time of the game: One bidding round almost take around 3-4 minutes. 
Handle the MADness without getting mad :p 
Get.Set.Bid.
How  to play the game?
LEVEL 1: Bidding

● The first important thing is to get into teams and select one Auctioneer who will moderate the game. Remember, the Auctioneer is the one who controls the MADness.

● We recommend there should be a maximum of 5 teams. There can be as many members as you want within each team.
(Ps: More the team members, more the fun!)

● Name each team and decide the order in which the teams will bid. The order should be maintained throughout the game.

● Every team will be given the same number of bidding coupons. Here's some quick advice: use them very wisely!

● There are 70 Blue Question Cards and 70 Red Dare Cards a. The auctioneer will pick a card of his/her choice from the 140 cards and read it out aloud.



● Every team will have to bid the numbers (how much can they do?) for the respective card one by one in order.
Eg: Number of Squats in a minute? OR Seconds you can hold a plank?

NOTE: Before every bid, each team will have to put down one bidding coupon.


● The rounds of bidding can keep on going. Every team is allowed to counter the bid but only in the decided order. For every bid, you'll have to place one bidding coupon.

● A team can also choose to skip bidding after the first round. After that, the team won't be given any further chance to bid for that particular card.

● The auctioneer has to take the call on when the auction on a particular card should be stopped.

● The auctioneer also has to decide & announce the highest bidding team for that particular card.  

LEVEL 2: Action Time

● Once the team has won the bid on a particular card, that team has to do what the card says.

● If the team is successful, they win all the bidding coupons placed for that particular card.  If they lose, all the coupons go straight to the bank.

ACTION CARDS
• There are two types of Action Cards in the game, which will be divided among the 5 teams before the game starts. Quick advice: Use them wisely:p


AUCTIONEER: THE MAIN MAN

The auctioneer is the most crucial person in the game.
Here's what you should keep in mind:

● Make sure the bidding is always placed in the decided order.
● You have the right to stop the auction rounds as per your judgment.
● Make sure the highest bidder does exactly what the card says under the time limit.
● Handle the MADness without getting Mad ;)
Share
View full details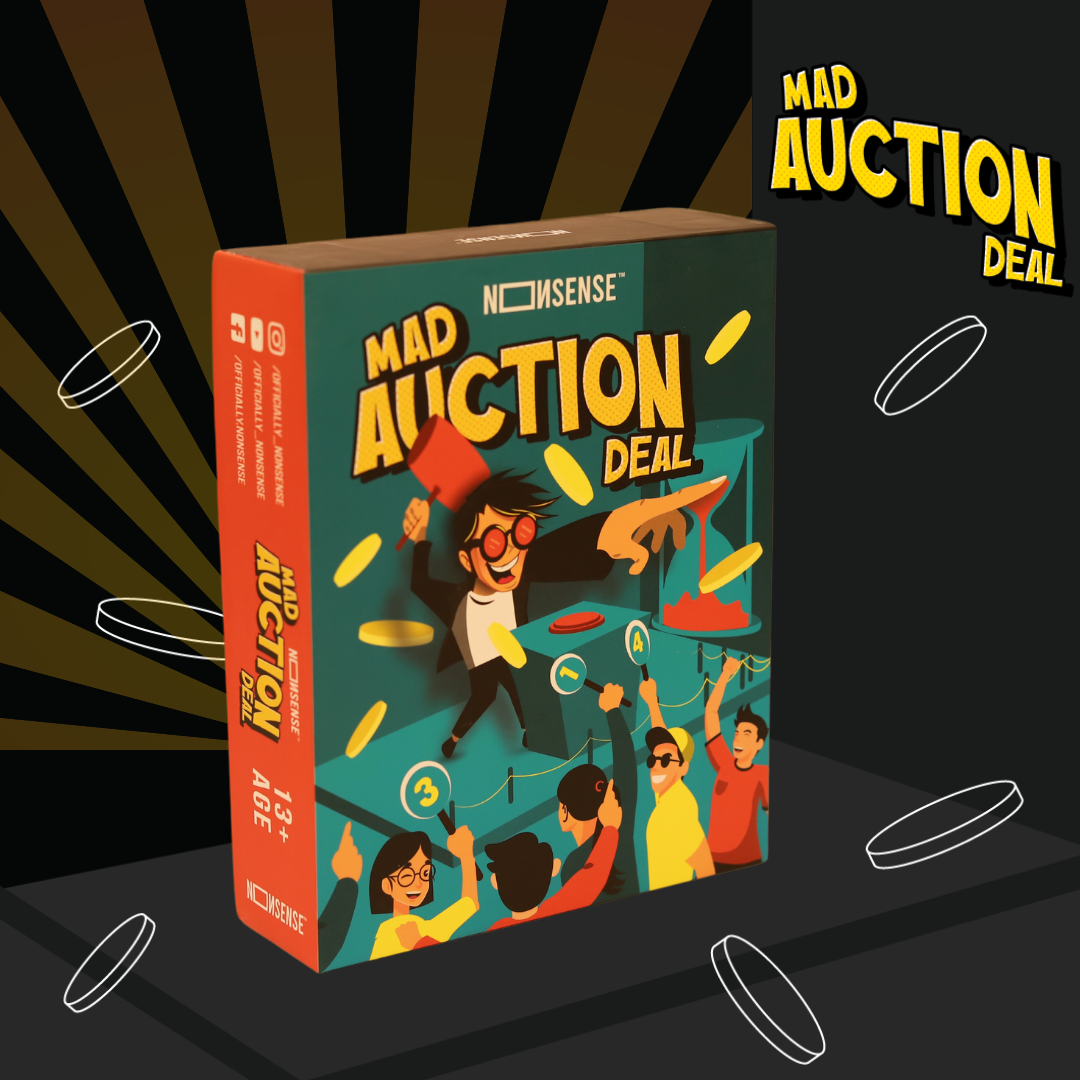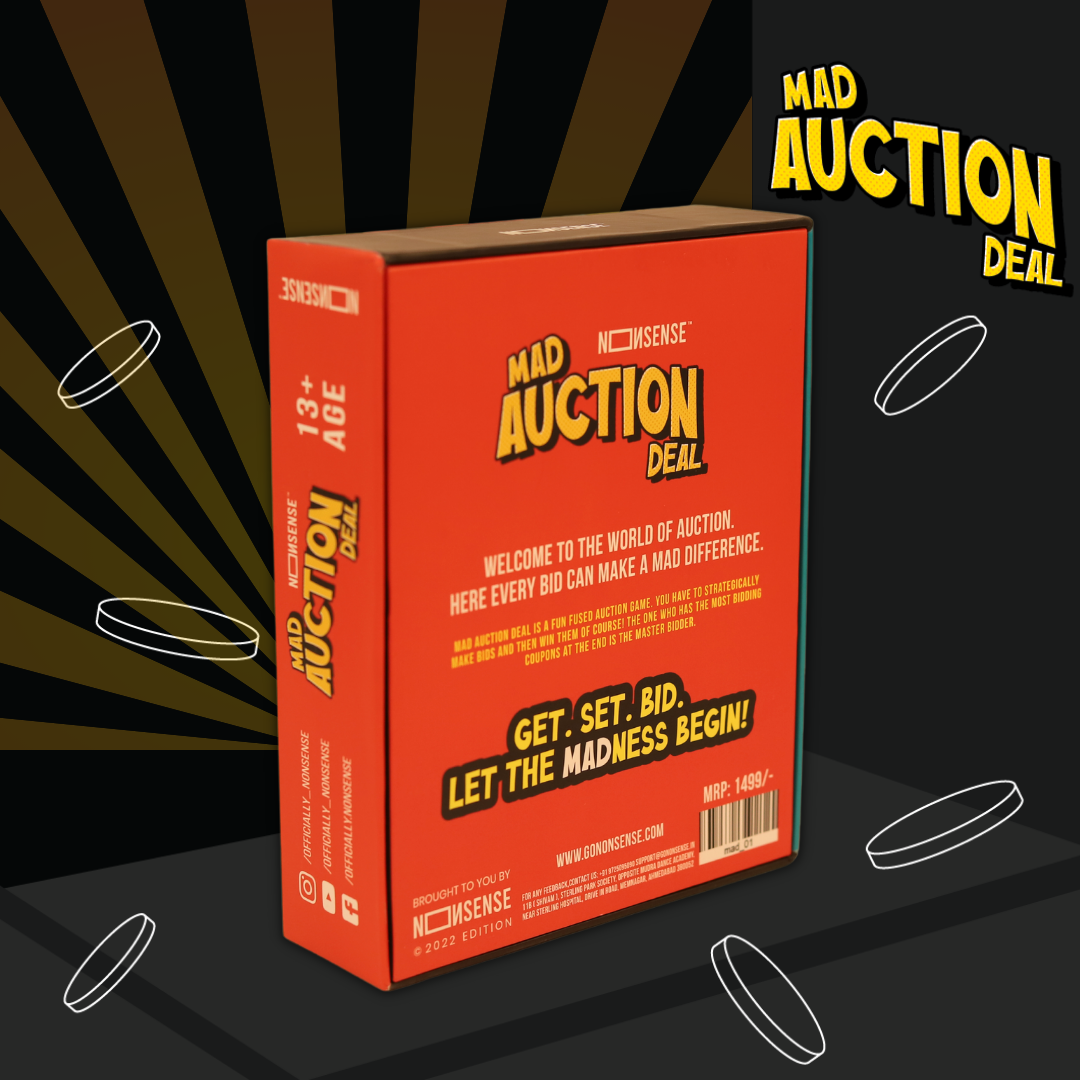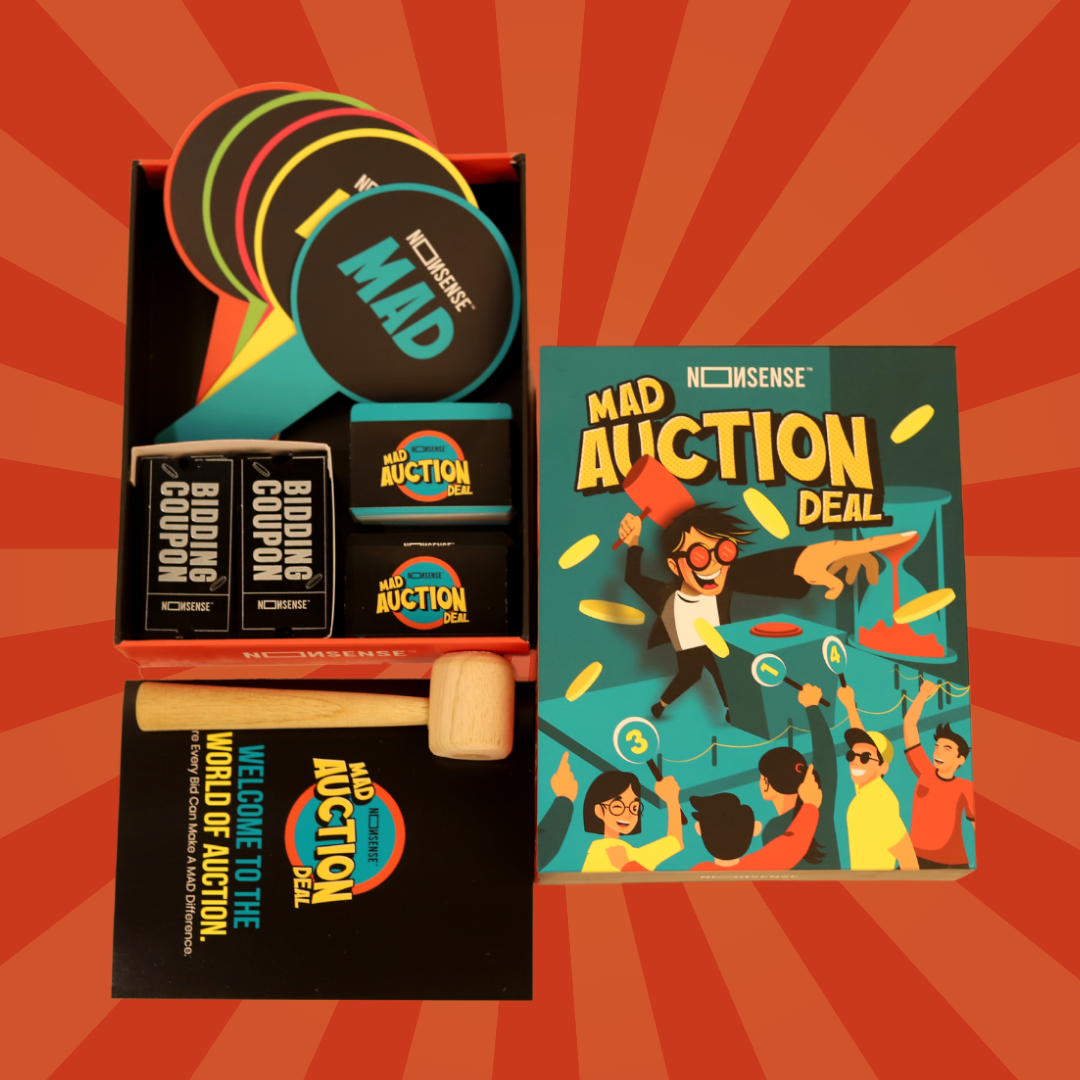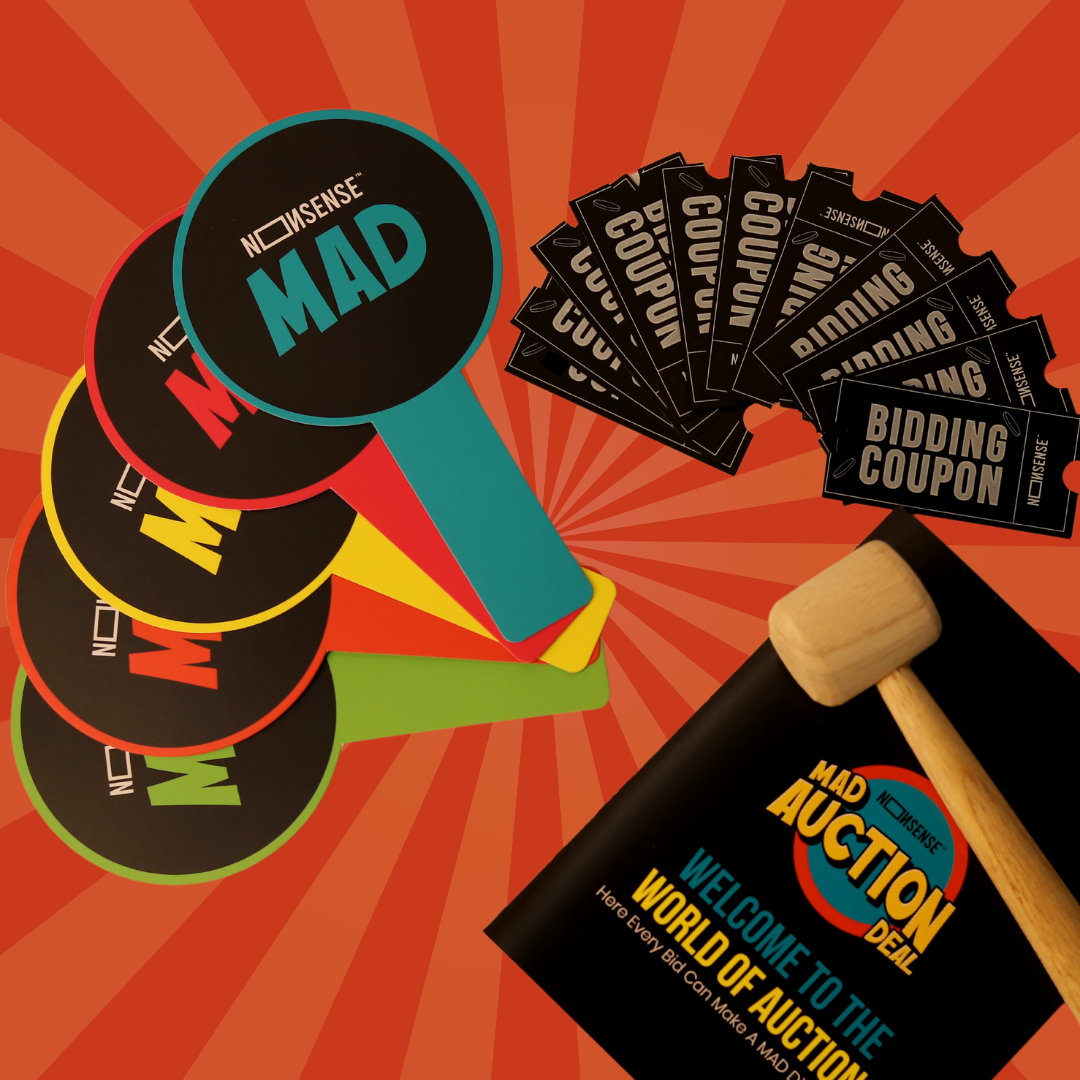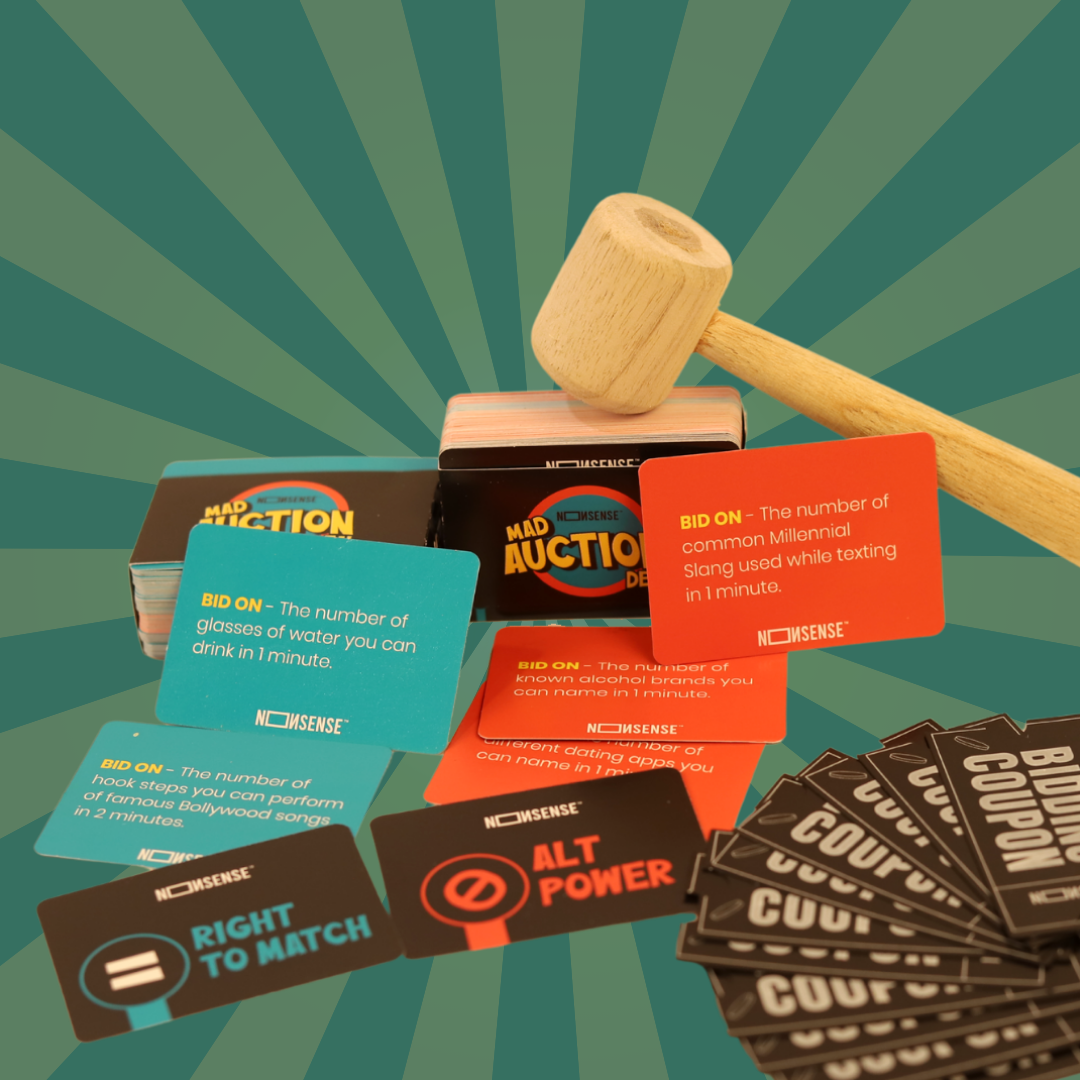 SUPER fun game
Had a really fun time playing this in my party. Must try out
Nonsense : MAD Auction DEAL
Super Amazing game for gatherings
It was super amazing playing this game with my friends. Best games if you are a group of more than 6-7 people. Must try