Regular price
Rs. 1,045.00
Regular price
Rs. 1,699.00
Sale price
Rs. 1,045.00
Unit price
per
Sale
Sold out
' NONSENSE BOLLYWOOD MAFIA ' Yes, you heard it right. BOLLYWOOD MAFIA !!! WHAT IS IT ABOUT ?   a game of BLUFFS | a game of HIDDEN ROLES  | a game of STRATEGY.  The perfect game for you and your friends is here ! Put on your detective hats and save yourselves from MAFIAS :)  
DETAILS :  Can be played by 5-22 Players ( the perfect group game is here ) The perfect Strategy Game for your gang !!! Can also be played by Families, Friends and Cousins :) Special BOLLYWOOD illustrations to make you go crazy ! Curated, Marketed and Published by NONSENSE STORE.
CONTAINS :  Lifetime Fun for 22 players at one go !!! BOLLYWOOD MAFIA EXPERIENCE BOX 22 Character Cards, 22 Character Eyeglasses, INSTRUCTION MAP, 4 Cue Cards BOLLYWOOD MAFIA Book for the GOD ! Character Description Manual Access to the NONSENSE FAMILY :)
CONTEXT :  The City wakes up! It rises, from the ashes; as she always does: leaving the past behind, trying to conquer life, and not worry about the future! THE CITY OF DEATH !  This city is infamous for the horrific deaths of the people who dare to dream, this is a town ruled by the underworld, this is a town controlled by the Mafia!  They say this city does not sleep, eh? WRONG. MAFIA does not let this city sleep.
CONSIDER THIS BEFORE ANYTHING : Bollywood Mafia is a strategic game and will test your sixth sense. It's about who you make your alliance with; it is about how well you can manipulate and influence the others by reading their mind! The best part of BOLLYWOOD MAFIA is 'bluffing'. The bluff masters can claim multiple roles, so as not to get killed or revealed. In the city of death everyone is a suspect and no one is safe!
Share
View full details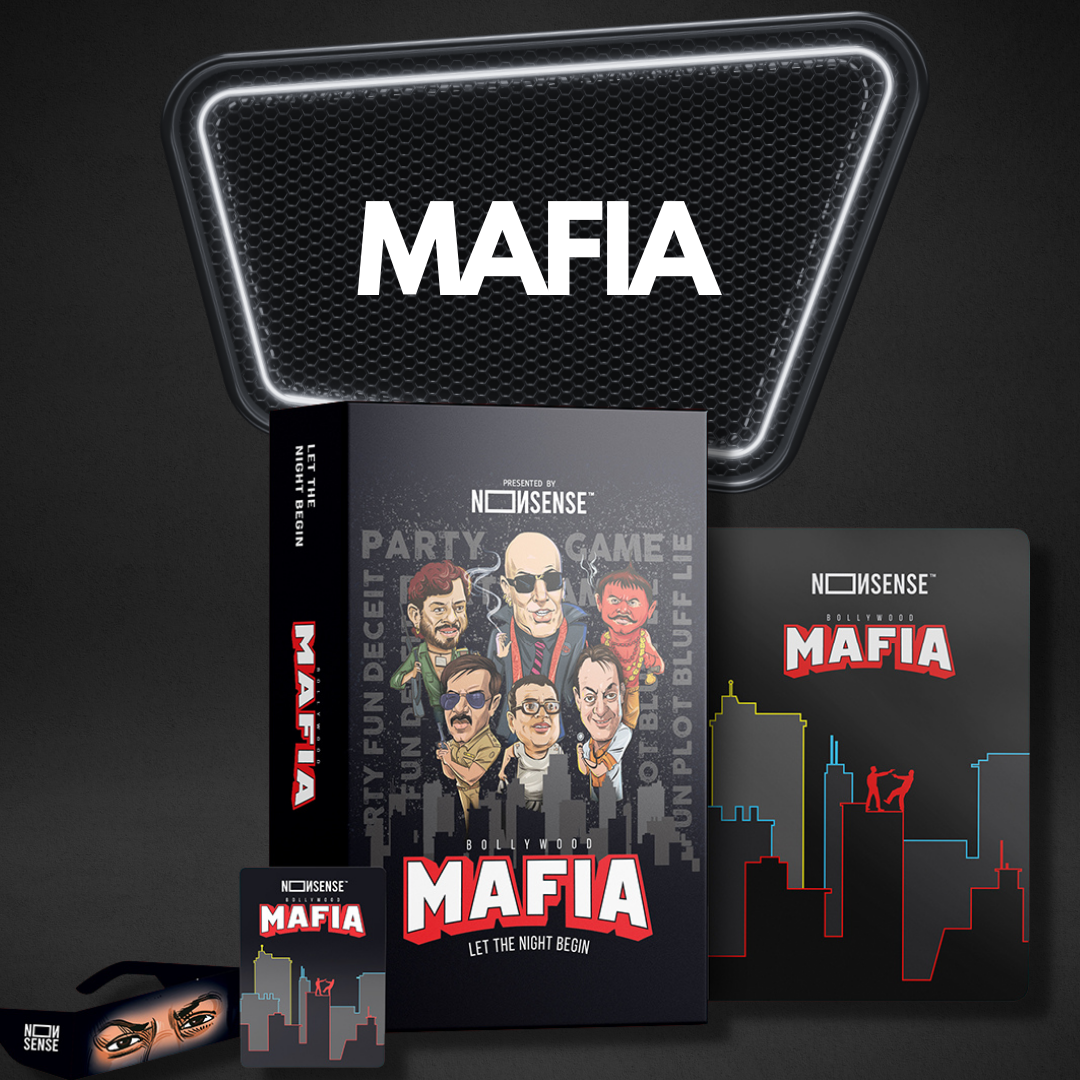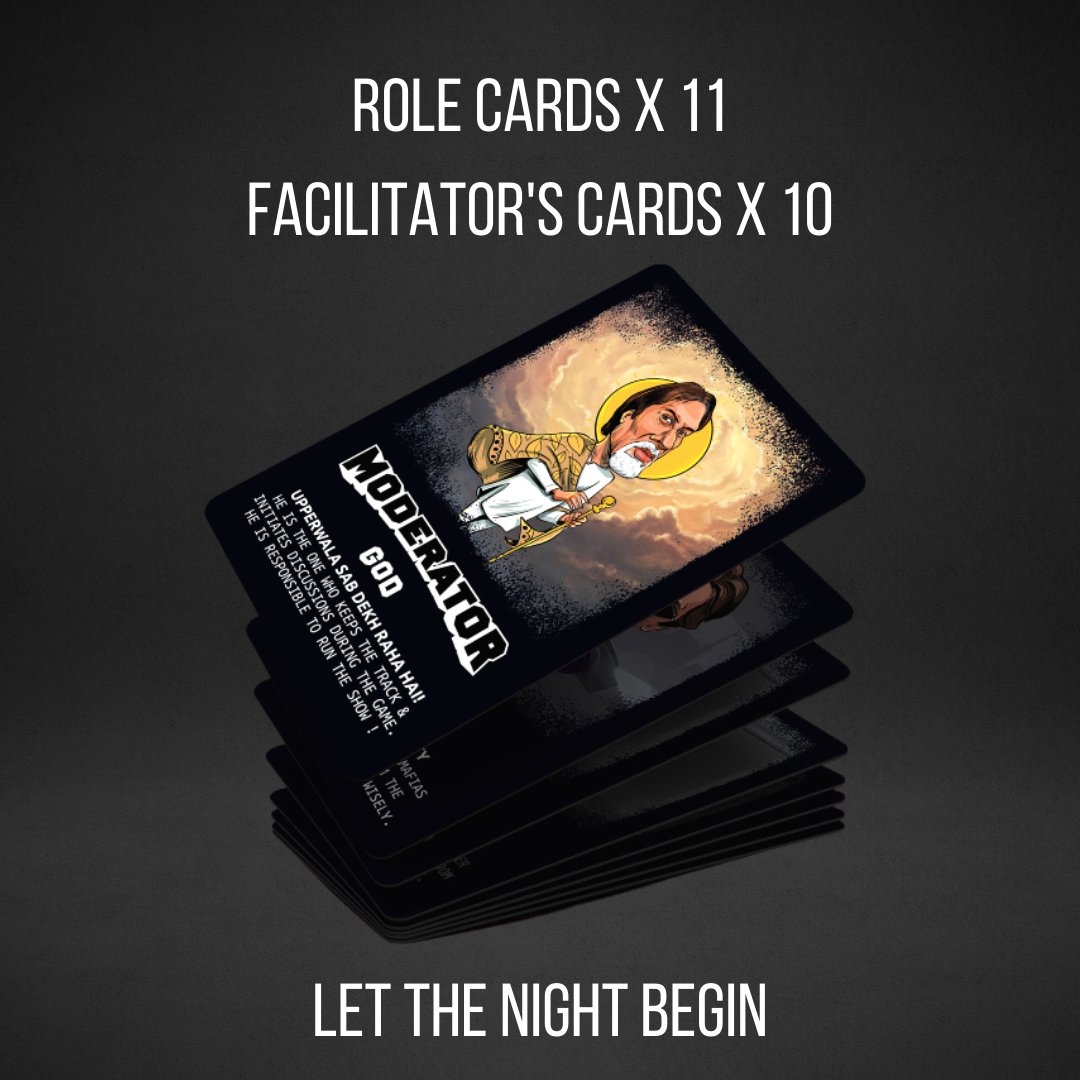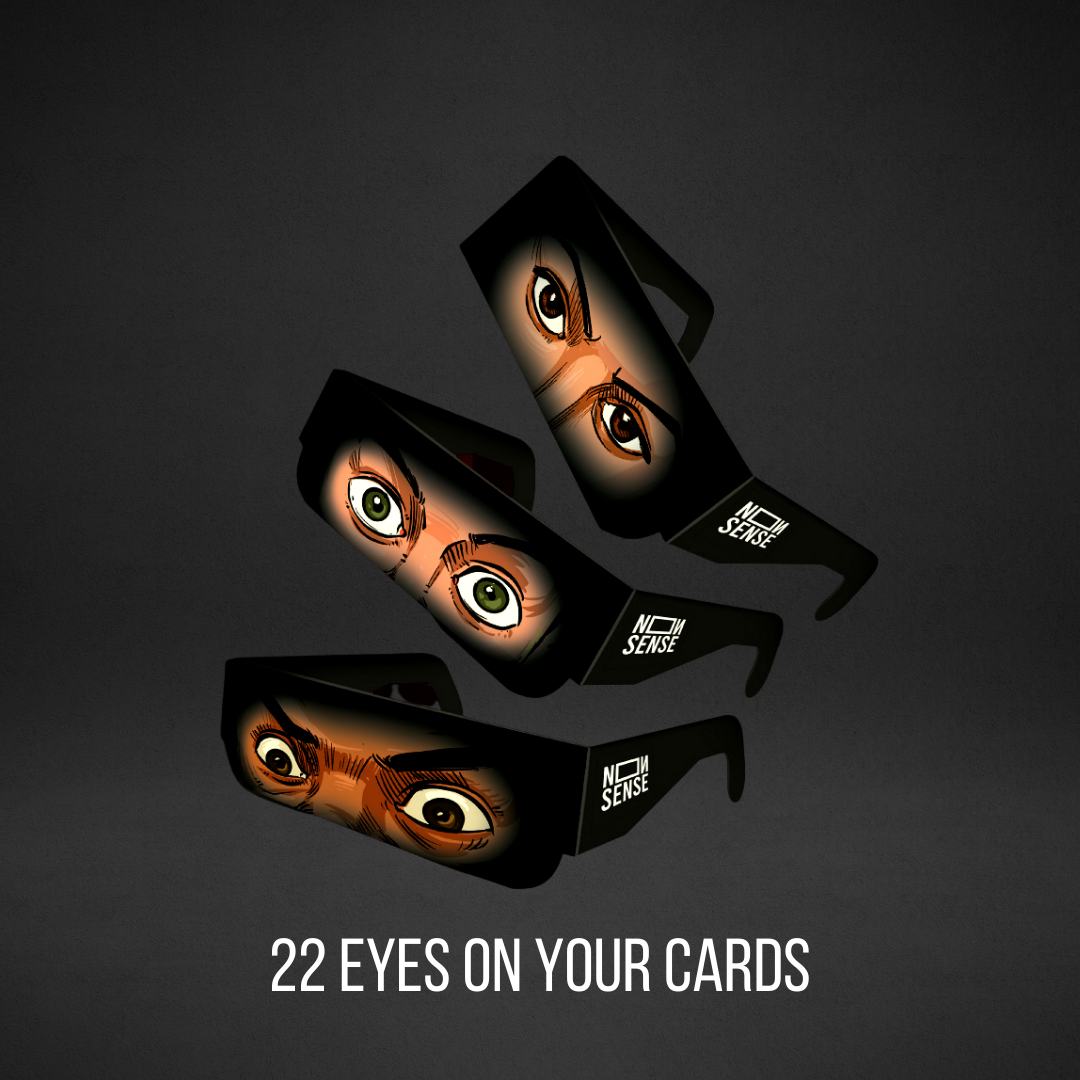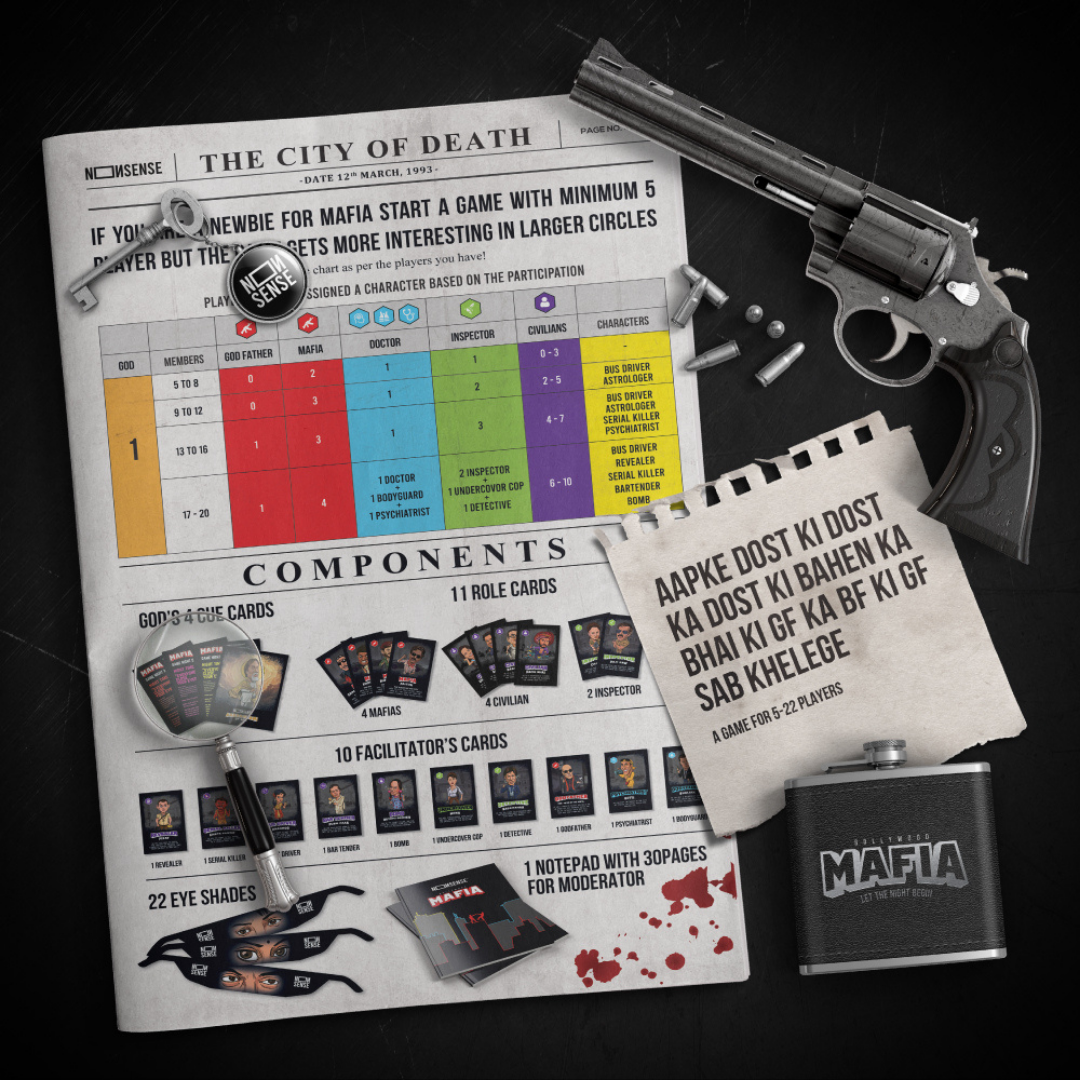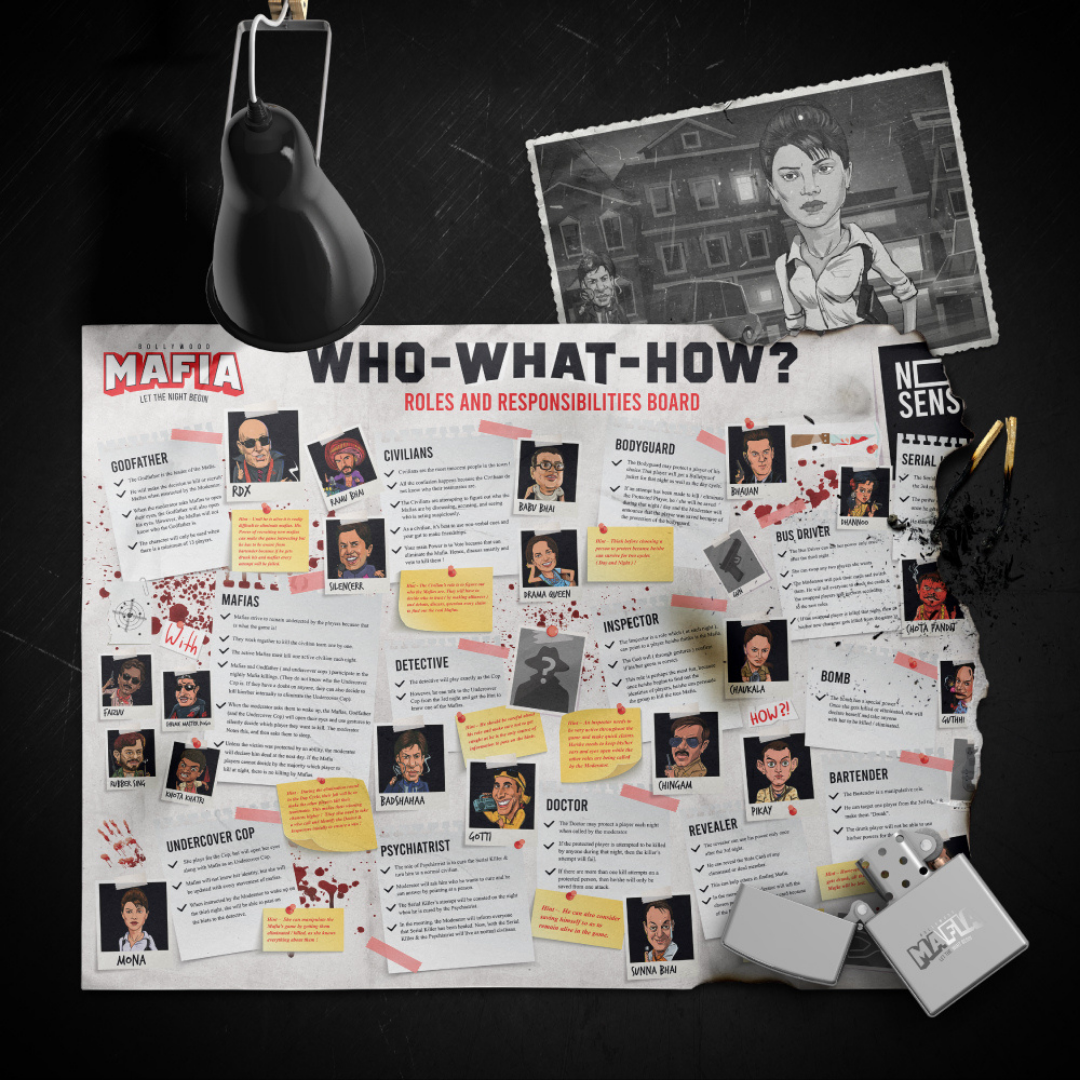 Amazing game . Totally worth it . This version of the game is superb and its so relatable and intersting to play in a party .
Worth it
Fun and easy to play version of mafia. A must have game for friends and family gatherings.
Great game
This game is on a whole new level!!